When Paxos surveyed 1000 gold investors in 2022[1], they found that almost one quarter of the surveyed users bought their first gold after 2020 (24.5%). This finding is aligned with the fact that the #1 motivator to buy gold was inflation concerns, followed by equities market concerns and geopolitical concerns. More than 45% of those who currently hold gold plan to buy more of it in some format in the foreseeable future.
According to a recent survey[1] (2022) by Morning Consult, a global decision intelligence company that delivers insights and market research, 66% of the 830 cryptocurrency owners surveyed primarily use crypto as an asset in their investment portfolio.
Morningstar, the leading provider of independent investment research, examined[2] the performance of different asset classes in the past couple of years (until 2022), how correlations between them have changed, and what those changes mean for investors and financial advisors trying to build well-diversified portfolios. They found that while cryptocurrency has an unusually low correlation with traditional assets, its volatility makes it challenging to use in a diversified portfolio. The turbulent market in 2020 also highlighted crypto's erratic performance trends. As the ultimate "risk-on asset," cryptocurrency was hit hard in the early 2020 bear market, despite its generally low correlation with major asset classes such as stocks and bonds.
This topic was also discussed in the International Monetary Fund blog[4], which stated that "before the pandemic, crypto assets such as Bitcoin and Ether showed little correlation with major stock indices. They were thought to help diversify risk and act as a hedge against swings in other asset classes. But this changed after the extraordinary central bank crisis responses of early 2020. Crypto prices and US stocks both surged amid easy global financial conditions and greater investor risk appetite."
It is undeniable that owning Bitcoin at certain periods in the past decade has been extremely lucrative; at other times, especially during economic turmoil, it has failed to demonstrate its safe haven property. Owning gold, on the other hand, has saved many portfolios from disaster when times got tough. The results of a recent study[5](2022) by professors at the Institute of Management Technology, India, showed that "gold consistently exhibits safe haven properties for all markets except the NSE (National Stock Exchange of India) in the short and long run, while Bitcoin provided mixed results."
An analysis by the World Gold Council illustrates that adding between 2% and 10% in gold to a hypothetical average US investment portfolio over the past decade would have resulted in higher risk-adjusted returns.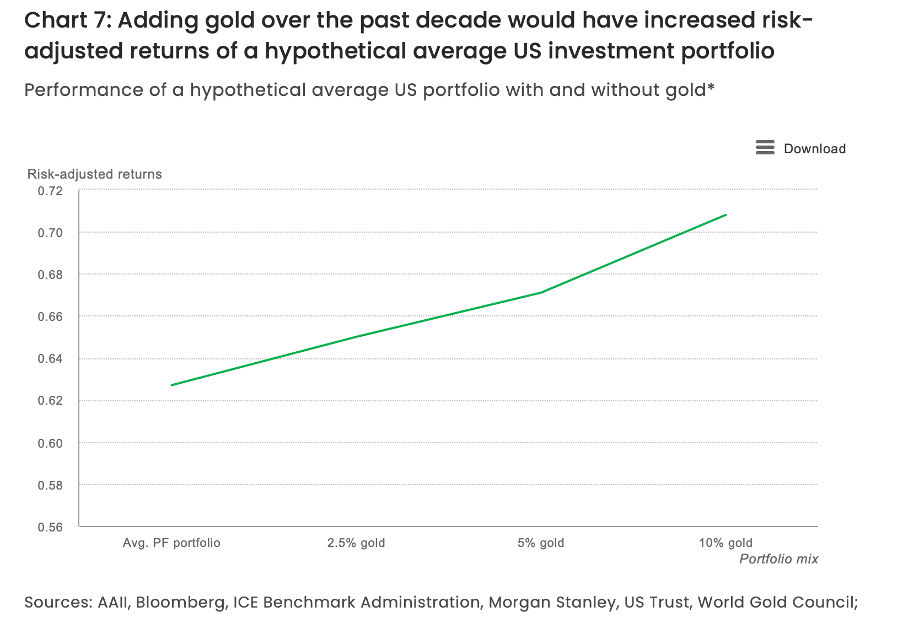 A prudent investor should be aware of their properties in order to properly build their portfolio based on their goals, preferences, risk tolerance, and state of the market. 'It all goes back to the whole idea of not putting your eggs in one basket', says Amy Arnott, a portfolio strategist at Morningstar, 'by diversifying, that can help you avoid being overexposed to any one particular area of the market when it's out of favor'.
---
WHY IS GOLD A GOOD PORTFOLIO DIVERSIFIER
One of key reasons to invest in gold is to protect an investor's portfolio against rapid price movements. In 2017, legendary investor Ray Dalio, founder of Bridgewater Associates – the world's largest hedge fund – put it plainly: most portfolios should have 5 to 10 percent of its holdings allocated to gold.
However, it's not just gold that serves as a good portfolio diversifier, it's all precious metals. A 2022 study[6]observing the role of precious metals in portfolio diversification during the Covid-19 pandemic concluded that 'gold, silver, palladium and platinum all serve as safe-haven assets during periods of market distress across short, medium and long investment horizons'.
An important factor when diversifying one's portfolio is considering how a certain asset behaves compared to other assets. In an asset moves in unison with stocks, it will not be a very good portfolio diversification; instead, investors should consider assets that behave differently from stocks and other common assets. A recent research note[7] by Goldman Sachs noted that gold is expected to outperform Bitcoin, which is described as 'highly volatile' in the long term. According to Goldman, Bitcoin is similar to owning a 'risk-on high-growth tech company stock', while gold benefits from 'real demand drivers' and is thus likely to be influenced by tighter financial conditions.
---
WELCOME TO GODBEX – the world's first true investment gold exchange. Ask. Bid. Grow your wealth.
---
GODBEX: A SAFE, SIMPLE, AND COST-EFFECTIVE PLATFORM THAT UNLOCKS THE FULL POTENTIAL OF YOUR PORTFOLIO
GODBEX is the world's first true investment gold exchange, where users set the spot price on their own terms. The price of gold is not arbitrarily fixed to any number. Instead, the market, which consists of GODBEX users, determine the price based on supply and demand. The trading of precious metals on the platform is safe, transparent, easy and has the lowest fees in the industry.
1.Why is GODBEX safe?
At GODBEX, you can buy, sell or trade only the highest quality gold, silver, platinum, and palladium bullion bars with fineness over 999.5. GODBEX gives you access exclusively to the first-rate products on the market, produced by certified refiners that are key suppliers and producers of bullion bars and coins for some of the most important international banks: Argor Heraeus (Switzerland), PAMP (Switzerland), Austrian Mint (Austria), and Heraeus (Germany). After buying the high quality bullion bar, you are presented with two options: to have it delivered to your address, or to leave it with GODBEX for safekeeping.
---
DOWNLOAD INVESTMENT GUIDE 2023: Comprehensive gold analysis to ensure the security of your investment strategy.
---
Withdrawing process:
GODBEX guarantees safe, fast, and discrete delivery of bullion bars via FedEx. The delivery of bullion bars bought is insured above and beyond the standard insurance level supplied by FedEx: GODBEX offers additional insurance to cover any losses that might occur. Therefore, you are not liable for any damage. All packages are fully insured (up to 50,000 euros in value), discretely wrapped, traceable, and delivered withing 3-5 business days. The fee for physical delivery of gold is 0,5% of the package value plus VAT; the fee is necessary to cover the package insurance.
Vaulting process:
GODBEX ensures secure, transparent, and certified storage of bullion bars bought on the platform. Every bullion bar held on your behalf is fully allocated, therefore all the bars are 100 % physically present at the storage facility. You will be provided with the serial numbers of bullion bars you own through your GODBEX account. Your precious metals remain physically on-site and are available to ship to your address whenever you choose. Vaulting is operated by Loomis International, a specialist for international precious metals logistics and vaulting solutions. Loomis International is part of the Loomis Group that operates high security warehouses in the world's most important financial centres, employing more than 23 000 people in 400 branches worldwide, ensuring the market leader position in the US, Switzerland, and Denmark. Their storages are equipped with latest web-based inventory management, giving you the ability to check your bullion bars around the clock from any location. The storage is completely independent from the banking system, not part of the bankruptcy estate and fully covered by the insurance policy – in no way can you lose your gold. Ever.
---
GET GODBEX APP FROM THE APP STORE AND GOOGLE PLAY: Trade precious metals with the lowest fees.
---
2.What are the GODBEX fees?
The trading fee consists of two parts: a fixed part that amounts to 1 EUR or USD, and a variable part that depends on the precious metal being ordered. GODBEX's fee is 0.25% on every gold transaction, which you will find to be the lowest fee in the industry for purchasing physical gold. Being fully committed to ensuring complete transparency in all transactions, GODBEX encourages you to review the full fee schedule for more detailed information.
During the launch period from April 15th until May 15th, trade with no transaction fee. After the 30 days, enjoy the extended promotional offer and continue trading for 50% of the usual fee until July 15th.
---
---
Unlock the full potential of your portfolio on your own terms on GODBEX – the world's first true investment gold exchange where your bullion bars are safely stored in secured vaults.
---
[7] https://www.sciencedirect.com/science/article/pii/S0301420721005390
[6] https://www.reuters.com/business/finance/gold-is-better-portfolio-diversifier-than-bitcoin-goldman-sachs-2022-12-12/
[5] https://www.ncbi.nlm.nih.gov/pmc/articles/PMC8802136/
[4] https://content.govdelivery.com/accounts/USIMF/bulletins/30520df
[3] https://go.morningconsult.com/rs/850-TAA-511/images/220630_State_of_Cryptocurrency_Report.pdf
[2] https://www.morningstar.com/articles/1088689/is-cryptocurrency-really-a-portfolio-diversifier
[1] https://424565.fs1.hubspotusercontent-na1.net/hubfs/424565/Paxos-GoldAttitudesSurvey.pdf
---