A recent study[1] by the World Gold Council on investment habits in Italy shows that Italians hold an average of four products in their portfolio and invest almost 30% of their income, a higher proportion than other Western markets surveyed.

Gold is the number one investment in Italy, with 39% of investors stating that they had invested in gold during the preceding 12 months. With a global recession becoming a real possibility, gold is once again in investors' focus, as it is viewed as a 'safe-haven' asset. 62% of Italians who have bought gold in the past said they would consider doing so again.
For the first time in history, at GODBEX, the world's first true investment gold exchange, you can not only trade bullion but also set the spot price of gold or any other precious metals on your own terms. As a supply and demand-based trading platform, GODBEX represents the simplest and most cost-effective way to trade and store physical precious metals with the lowest fees in the industry! You can now trade securely and safely on GODBEX, with strong privacy and the highest level of transparency, a structured system of governance, and monthly audit trails.
---
WELCOME TO GODBEX – The world's first true investment gold exchange. Trade on the open market. Ask. Bid. Grow your wealth.
---
HOW DOES GODBEX FIT INVESTORS' NEEDS AFTER THE PURCHASE?
Once you buy your precious metal bullion on GODBEX, you'll be presented with two choices – to have it delivered or to have it vaulted on your behalf.
1.What if I choose to withdraw?
GODBEX guarantees safe, fast, and discreet delivery of bullion bars via FedEx. The delivery of bullion bars bought is insured above and beyond the standard insurance level supplied by FedEx. GODBEX offers additional insurance to cover any losses that might occur, so you are not liable for any damage. All packages are fully insured (up to 50,000 euros in value), discreetly wrapped, traceable, and delivered within 3-5 business days. The fee for physical delivery of gold is 0.5% of the package value plus VAT, and the fee is necessary to cover the package insurance.
---
GET THE GODBEX APP FROM THE APP STORE AND GOOGLE PLAY: Trade precious metals with the lowest fees.
---
2.What if I choose to vault?
GODBEX ensures secure, transparent, and certified storage of bullion bars bought on the platform. Every bullion bar held on your behalf is fully allocated, therefore all the bars are 100 % physically present at the storage facility. You will be provided with the serial numbers of bullion bars you own through your GODBEX account. Your precious metals remain physically on-site and are available to ship to your address whenever you choose. Vaulting is operated by Loomis International, a specialist for international precious metals logistics and vaulting solutions. Loomis International is part of the Loomis Group that operates high security warehouses in the world's most important financial centres, employing more than 23 000 people in 400 branches worldwide, ensuring the market leader position in the US, Switzerland, and Denmark. Their storages are equipped with latest web-based inventory management, giving you the ability to check your bullion bars around the clock from any location. The storage is completely independent from the banking system, not part of the bankruptcy estate and fully covered by the insurance policy – in no way can you lose your gold. Ever.
---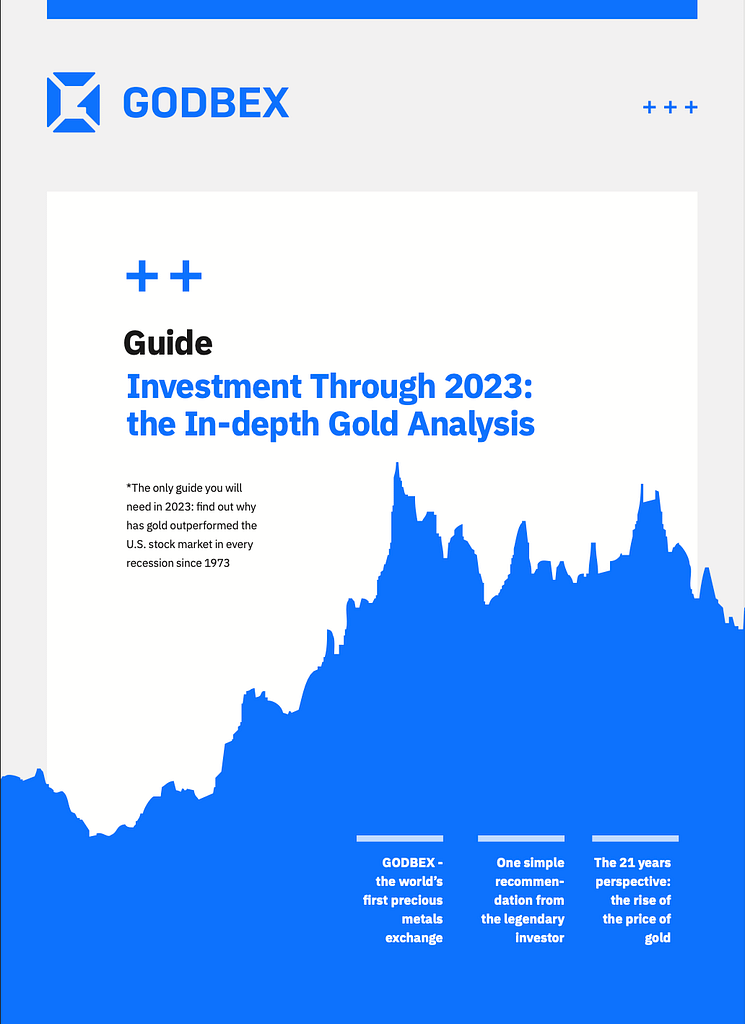 GODBEX INVESTMENT GUIDE 2023
To get an in-depth insights on precious metals, and a historical perspective on the price of gold, download the GODBEX Investment Guide. It is the only guide you will truly need in 2023.
---
Unlock the full potential of your portfolio on your own terms on GODBEX – the world's first true investment gold exchange where your bullion bars are safely stored in secured vaults.
---
[1] https://retailinsights.gold/regional-spotlights/italy/investment.html