A recent research note by Goldman Sachs noted that gold is expected to outperform bitcoin, which is described as 'highly volatile', in the long term[1]. According to Goldman, bitcoin is similar to owning a 'risk-on high-growth tech company stock', while gold benefits from 'real demand drivers' and is thus less likely to be influenced by tighter financial conditions meaning it is 'a useful portfolio diversifier'.
Gold is today seen as a store of value and a hedge for inflation. Its price isn't impervious to outside influences, but it often moves against the tide.
The price of gold is affected by numerous factors, such as inflation and fiscal policy, overall sentiment on the markets, and specific factors such as gold mining- related news and developments, and most importantly – supply and demand.
The past five years have been tumultuous, with extreme volatility in the stock markets due to the Covid-19 pandemic, global supply chain shocks, the war in Ukraine, and other issues. Despite this, the price of gold remained relatively stable after climbing to all-time highs of just above $2,000 per ounce in 2020. While the price of gold may lag riskier assets such as stocks and cryptocurrencies in periods of prosperity, it can protect investors' value in times of crisis.
One of the key properties of gold is that its supply is predictable and doesn't change much in short periods of time. This makes gold a good hedge in times of high inflation, when the purchasing power of fiat money decreases due to a rapid increase in supply. Therefore, the price of gold often moves up in times of crisis. Another reason for this is something investors call the 'flight to safety' – when stock and crypto prices are falling, investors rush to buy gold as it is considered to be one of the safest investments available.
Retail Gold Insights[2] (2021) by the World Gold Council states that 36% of German retail investors who have never bought gold before are open to investing in gold. This readiness to invest is evident across all age groups but is most significant among 18-24 year olds, with 38% indicating their intention to invest in gold in the near future. More than 40% of young investors are considered to be open to gold, although they have not yet purchased it.
GODBEX is the world's first true investment gold exchange, representing a simple and cost-effective way to trade precious metals. The platform does not arbitrarily fix the price of gold or any other precious metal, instead allowing the market to set the price on their own terms. Bid, ask, trade today – no prior knowledge or experience is necessary.
---
WELCOME TO GODBEX – The world's first true investment gold exchange. Trade on the open market. Ask. Bid. Grow your wealth.
---
HOW IS GODBEX SAFE?
Once you buy your bullion bar, you are presented with two choices: to have it delivered to your address or to leave it with GODBEX for safekeeping, a strongly regulated and audited platform. Vaulting is operated by Loomis International, a specialist in international precious metal logistics and vaulting solutions, while the fast and discrete delivery of bullion bars is done via FedEx. Each and every bullion bar available on the platform is standardized and from an LBMA-approved refiner.
---
DISCOVER THE VALUE OF GOLD TRADING ON GODBEX – The world's first true investment gold exchange. No experience necessary.
---
1.How is the quality of bullion bars standardized?
At GODBEX, you can buy, sell, or trade only the highest quality gold, silver, platinum, and palladium bullion bars with a fineness of over 999.5. GODBEX gives you exclusive access to first-rate products on the market, produced by certified refiners who are key suppliers and producers of bullion bars and coins for some of the most important international banks: Argor Heraeus (Switzerland), PAMP (Switzerland), Austrian Mint (Austria), and Heraeus (Germany).

According to the World Gold Council, every bullion bar available for trading needs to have the following information:
Manufacturer: The name of the refinery that produced the bullion bar
Weight: The weight should be clearly stamped, typically in troy ounces
Purity: Each bullion bars needs to have its fineness specified (in case of GODBEX, it's always of over 999.5)
Assay mark: A symbol or mark that indicates that the bar has been independently tested and verified for purity and weight
Serial number
On GODBEX, every bullion bar has all the mentioned information stamped, plus:
The certificate of authenticity
Country of origin
---
DOWNLOAD INVESTMENT GUIDE 2023: Comprehensive gold analysis to ensure the security of your investment strategy.
---
2. Why is it safe to leave bullion bars to GODBEX for safekeeping?
GODBEX ensures the secure, transparent, and certified storage of bullion bars purchased on the platform. The vaulting is operated by Loomis International, a specialist in international precious metal logistics and vaulting solutions. Loomis International is part of the Loomis Group, which operates high-security warehouses in the world's most important financial centers, employing over 23,000 people in 400 branches worldwide, and maintaining a market leader position in the US, Switzerland, and Denmark. Their storage facilities are equipped with the latest web-based inventory management, allowing you to check your bullion bars around the clock from any location. The storage is completely independent of the banking system, not part of the bankruptcy estate, and fully covered by insurance, meaning you cannot lose your gold under any circumstances.
3. How can I be sure that the bullion bar will arrive to my address safely?
GODBEX guarantees safe, fast, and discrete delivery of bullion bars via FedEx. The delivery of bullion bars bought on the GODBEX trading platform is insured above and beyond the standard insurance level supplied by FedEx: we offer additional insurance to cover any losses that might occur. Therefore, you are not liable for any damage. All packages are:
Fully insured
Discretely wrapped – Traceable
Delivered within 3-5 business days
---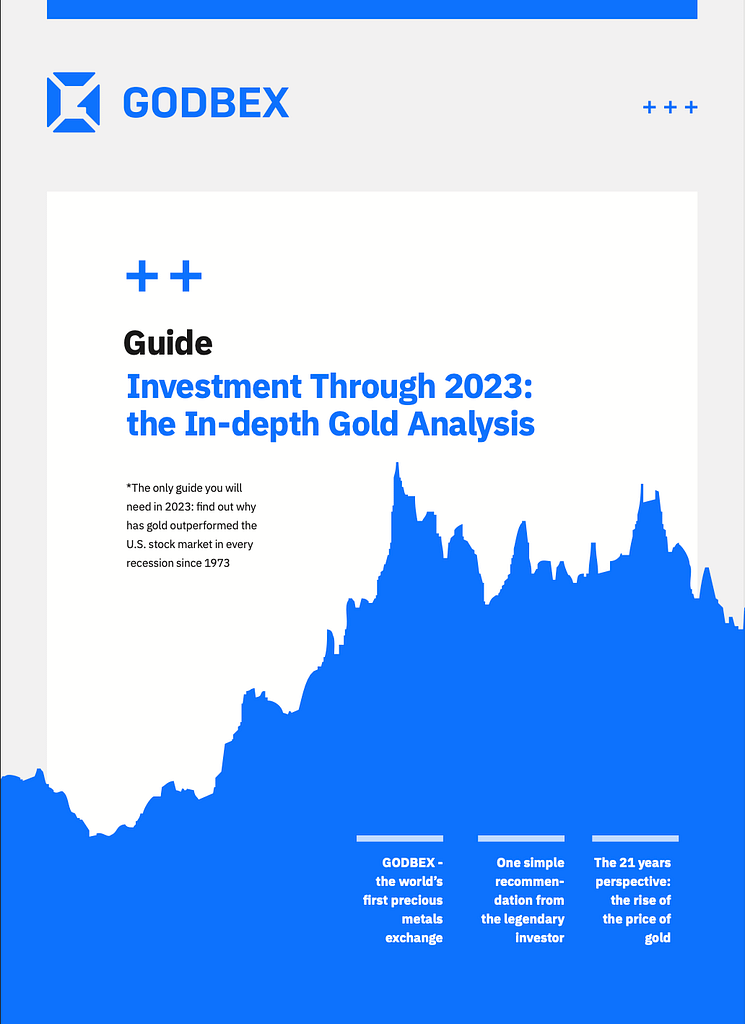 GODBEX INVESTMENT GUIDE 2023

To get an in-depth insights on precious metals, and a historical perspective on the price of gold, download the GODBEX Investment Guide. It is the only guide you will truly need in 2023.

DOWNLOAD NOW
---
Unlock the full potential of your portfolio on your own terms on GODBEX – the world's first true investment gold exchange where your bullion bars are stored in secured vaults.
---
[1] Gold is better portfolio diversifier than bitcoin – Goldman Sachs, Reuters, Dec. 2022 (https://www.reuters.com/business/finance/gold-is-better-portfolio-diversifier-than- bitcoin-goldman-sachs-2022-12-12/)
[2] https://retailinsights.gold/regional-spotlights/italy/investment.html