World Gold Council partnered with Coalition Greenwich[1] in order to interview over 400 key decision makers at global investment institutions on their portfolio allocations and views on markets and gold. The responses in the survey reveal that investors who own gold do so overwhelmingly for diversification (85%) and inflation-hedging purposes (72%) and that the vast majority of gold allocations are strategic, typically held for more than three years.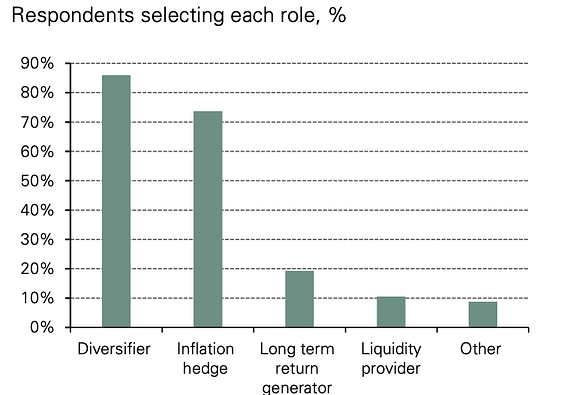 Among investors who allocate to gold, the majority plan to either maintain or increase their current allocation to gold over the next three years, with only a very small minority expecting to reduce their allocation. Moreover, more than half of investors who hold gold expect the minimum holding period of their gold allocation to be more than three years, highlighting gold's significance in their long-term asset allocation strategy.
These meaningful gold allocations reflect institutions' mounting concerns about inflation and their increasing need for effective portfolio diversifiers at a time of pronounced uncertainty about both short- and long-term market direction. During six out of the last seven major recessions, from 1973 onwards, the price of gold increased. The sole exception was the short recession in 1980 when the price of gold rose tremendously leading up to the recession and then lost some steam during the actual recession.
Invest in an asset that acts as a buffer against market risk on GODBEX – the world's first true investment gold exchange, representing the simplest and most cost-effective way to trade precious metals. Protect and increase your wealth on the platform that only works with refiners that deal in LBMA-approved Good Delivery gold and silver bars. In order to be accepted onto the Good Delivery list, refiners must undergo stringent checks on their history in the market, financial standing, ability to produce bars that meet the London Bullion Market Association standards, and minimum levels of production.
GODBEX has also standardized the quality of bullion bars available for trading. Stamped on each bullion bar, you will find the certificate of authenticity, the logo of the mint, country of origin, weight, fineness, assayer mark, and a unique serial number.
---
WELCOME TO GODBEX – The world's first true investment gold exchange. Trade on the open market. Ask. Bid. Grow your wealth.
---
FOR ADVANCED INVESTORS ONLY: 6 REASONS TO TRADE IN GOLD
1. A must-have diversifier for your portfolio as it has a negative correlation with risk assets
2. Gold is a stable and highly liquid asset, making it a good hedge against inflation and currency volatility
3. A long-time choice as a portfolio diversifier of numerous legendary traders and investors, including Ray Dalio, Jim Rogers, George Soros, Carl Icahn, and Stanley Druckenmiller, all of which have made big bets on gold when they expected a market downturn
4. Gold is a potential safe-haven for the looming global recession, which is a strong possibility in 2023 according to numerous banks and investment firms. Furthermore, many analysts predict a decline in bond yields and the dollar in 2023 and beyond, which is when gold price typically rises
5. Investors with aggressive portfolios may want to allocate a portion of their portfolio into gold as protection against sudden adverse movements in the stock and cryptocurrency markets
6. Potential beneficial tax effects of physical gold investing compared to investment in stock and bonds
---
DOWNLOAD INVESTMENT GUIDE 2023: Comprehensive gold analysis to ensure the security of your investment strategy.
---
WHY IS GODBEX SAFE
When you decide to invest in gold, you are almost always presented with a compromise. Unless you're physically in possession of the gold you own, you must trust a third party to keep the gold. At GODBEX, bullion bars are stored in secure vaults operated by Loomis International. Every bullion bar held on your behalf is fully allocated, meaning all bars are 100% physically present at the storage facility. You will be provided with the serial numbers of the bullion bars you own through your GODBEX account. Your precious metals remain physically on-site and are available to be shipped to your address whenever you choose. GODBEX guarantees safe, fast, and discrete delivery of bullion bars via FedEx.
The process of vaulting
Loomis International is part of the Loomis Group, which operates high-security warehouses in the world's most important financial centers. The group employs more than 23,000 people in 400 branches worldwide and is a market leader in precious metal storage solutions in the US, Denmark, and Switzerland. Their storage facilities are equipped with the latest web-based inventory management, giving you the ability to check your bullion bars around the clock from any location. The storage is completely independent of the banking system, not part of the bankruptcy estate, and fully covered by the insurance policy, so you can never lose your gold.
The process of audit
GODBEX aims to provide the highest levels of transparency while maintaining strong privacy for its users. To protect the precious metals held on behalf of its users, a strong system of governance and an audit trail have been implemented.
1. Once a month, a third-party independent and well-recognized auditor performs an in-person audit in GODBEX vaults. The auditor compares the individual bullion bars stored in the vaults against a list supplied by the GODBEX team. The list is generated automatically from the trading platform based on precious metals deposits, withdrawals, and executed orders. The list includes the manufacturing refinery, weight, fineness (999.9), assayer mark, and the serial number. The list is protected with passwords, known only to a few members, and cannot be modified in any way.
2. This audit is additionally verified by an agent of the vault company who signs off on the Certificate of Deposit with the sight verification auditor.
3. The auditor provides an independent audited Certificate of Audit. The certificate verifies that bullion bars allocated to users reflect the exact quantity and quality of the bars as provided in the list. Copies of the Certificate of Audit, Certificate of Deposit, and Proof of Insurance are available to users within their secure online accounts and upon request. GODBEX considers publishing public information about the metal held in custody on behalf of users a breach of user privacy.

The process of delivery
The delivery of bullion bars bought on the trading platform is insured above and beyond the standard insurance level provided by FedEx. GODBEX offers additional insurance to cover any potential losses, so you are not liable for any damage. All packages are fully insured up to a value of 50,000 euros, discreetly wrapped, traceable, and delivered within 3-5 business days. The fee for physical delivery of gold is 0.5% of the package value plus VAT. This fee is necessary to cover the package insurance.
---
GODBEX INVESTMENT GUIDE 2023

To get an in-depth insights on precious metals, and a historical perspective on the price of gold, download the GODBEX Investment Guide. It is the only guide you will truly need in 2023.

DOWNLOAD NOW
---
Unlock the full potential of your portfolio on your own terms on GODBEX – the world's true investment gold exchange where your bullion bars are safely stored in secured vaults.
---
[1] Coalition Greenwich surveyed 408 institutional investors between November 2021 and March 2022. Regional composition of respondents: North America: 163; EMEA: 137; APAC: 106; Latin America: 2. Surveys were conducted online.