As per a 2020 research study[1] conducted by the University of Indonesia, which encompassed a sample size of over 100 investors, it was concluded that a significant correlation exists between an investor's level of financial literacy and their decision-making prowess with regards to investment choices. The more proficient an investor is in financial literacy, the higher the probability of selecting an appropriate investment vehicle in the capital market and increasing the returns. To furthermore enhance the value of your investment, here's a glossary of gold-related and investment terms:
---
Bullion – Bullion is a precious metal that has been refined to a very high standard of purity; in case of gold, it has to be at least 99.5% pure
Fed – The U.S. Federal Reserve, or Fed, is the central bank of the United States, with a mandate of keeping inflation low, employment high, and the financial system stable
Fineness – Fineness is a measure of gold purity, expressed in parts per thousand. For gold, it is commonly expressed to four significant figures, such as 999.5, which means that 999.5 parts in 1,000 are gold
Futures – Future are a financial instrument that allows investors to buy or sell an asset (such as gold)at a certain price, at a specified time in the future. Trading in futures does not necessarily grant the investor ownership of physical gold
GODBEX – The world's first true investment gold exchange. An innovative supply and demand-based platform, representing the simplest and most cost effective way to trade and store physical precious metals
Gold ETFs – Gold ETFs (Exchange Traded Funds) are commodity funds that invest in gold, as well as gold-backed assets. They are traded similarly to stocks. Owning ETF shares does not necessarily grant the investor ownership of physical gold
HSBC – HSBC is a British bank and a financial services company
J.P. Morgan – J.P. Morgan is an American investment bank and a financial services company
LBMA – The London Bullion Market Association is an international trade association representing the London market for gold and silver bullion
MORO – Moro is the second largest EU company for physical gold trading and selling, founded in 1993 in Slovenia
Options – Options are financial instruments that have gold or gold futures as underlying asset. They are a special type of contract that grant the owner the right to buy or sell a specific quantity of gold at a specified price, on (or before) a specified date. Trading in options does not necessarily grant the investor ownership of physical gold
Risk-on and risk-off – Terms that describe investor behavior. During risk-on times, investors are more likely to invest in risky assets such as stocks and cryptocurrencies. During risk-off times, investors are more likely to look for safety in cash and gold
S&P500 – The Standard and Poor's 500 is an index that tracks the performance of 500 major stocks listed on U.S. stock exchanges. It is widely considered to be a benchmark for overall performance of U.S. stocks
World Gold Council – The World Gold Council is an association comprised of the world's leading gold mining companies, with a goal to improve understanding of the gold market, and underscore gold's value to individuals, investors, and the world at large
---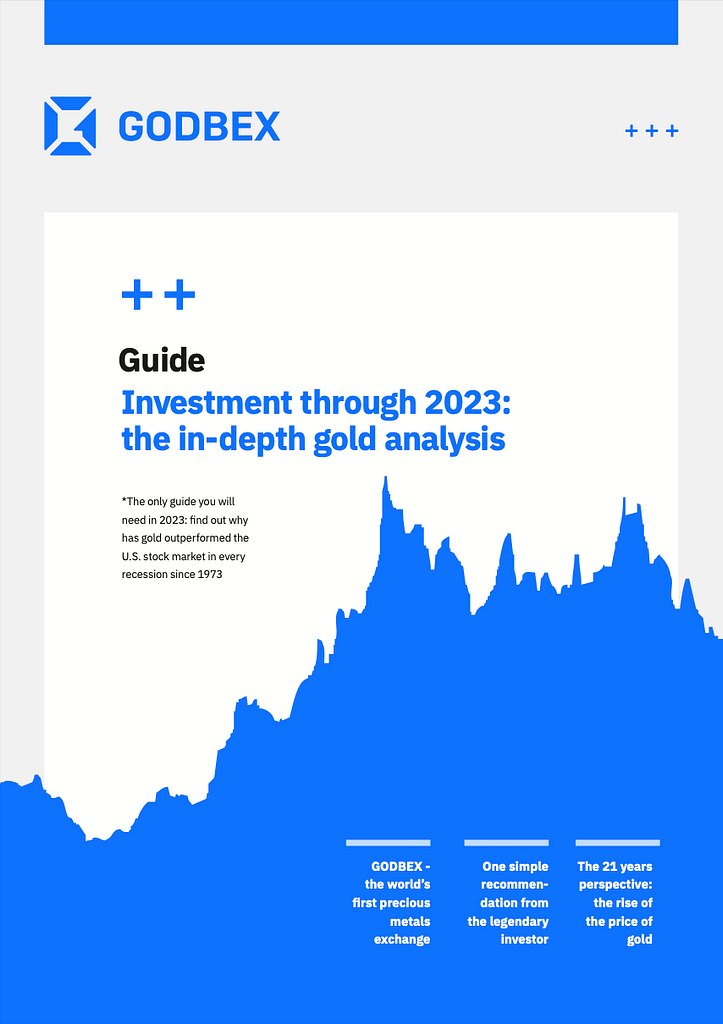 ---
Unlock the full potential of your portfolio on your own terms on GODBEX – the world's first true investment gold exchange where your bullion bars are safely stored in secured vaults.
[1] https://files.eric.ed.gov/fulltext/EJ1270416.pdf